Sex is great – but it's even better when you're both completely satisfied. Unfortunately, a whopping 90% of women can't orgasm from penetration alone. So, what's a girl to do? Well, why not get a vibrator that's designed to be worn during intercourse?
A couples massager is a "U"-shaped vibrator that you wear while you're having sex and it provides both internal and external stimulation – making that big O a lot more likely.
Check out the top 5 reasons you should get yourself (and your partner) a couples' massager.
Orgasm more often and more intensely.
These massagers hit all the right spots for both of you. The smaller end of the massager is inserted into the vagina*, while the larger end rests on your labia, sending thrilling vibrations onto your clitoris. (Need to brush up on your anatomy? Check out this article.)
During sex it presses against your g-spot and his penis – and it feels amazing. At the same time, your movements rub the vibrating head of the massager against your labia and clitoris, creating intense sensations for both of you.
Don't worry, it will fit, just be sure to buy a high-quality massager made of soft, flexible medical grade silicone. The Kalia is a good choice for beginners and is fully waterproof and USB-rechargeable. It has 6 vibration patterns to meet your individual needs and is made from phthalate-free silicone (which any sex toy you choose should be!). You can also use a good water-based lubricant before you get started to make sure you're both comfortable.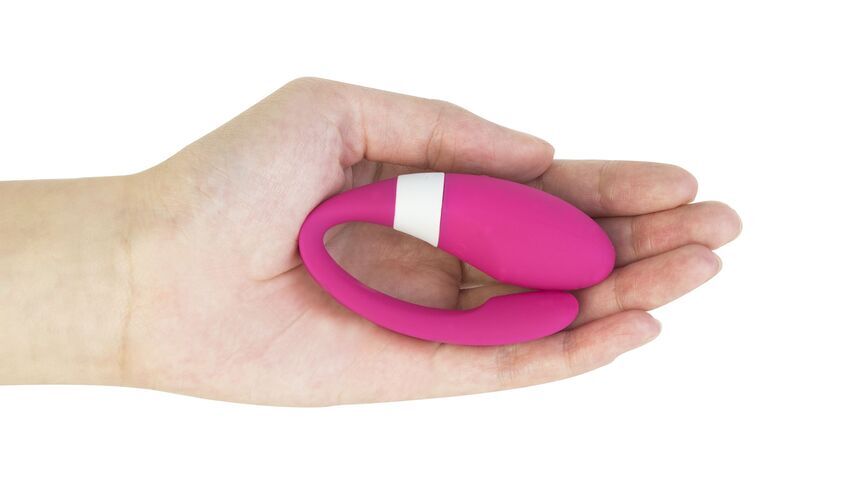 Get closer (in more ways than one).
But aside from increased pleasure, there are also other advantages to using a couples' massager. During orgasm, your brain (and your partner's brain) produces the hormone oxytocin, also known as the "love hormone".
Oxytocin is what causes that blissful feeling of closeness just after you climax, but according to recent studies it does more than that. It also makes you want to share more with your partner afterwards. Engaging in pillow talk and whispering sweet nothings is thought to build intimacy and help strengthen your relationship, even beyond the bedroom.
Start talking about your desires.
Using a couples' massager is a great way to start exploring new sexual desires. When you're both benefitting from a new addition to the bedroom you're also more open to the possibility of other additions down the line, so start talking about what else you'd like to try!
In fact, a 2011 study (PDF) found that sharing sexual desires and interests can lead to increased sexual satisfaction, especially for women. So have fun, get comfortable, and feel free to laugh, sigh, and snuggle. Then use your pillow-talk to be open with each other about your secret desires – you never know where it will lead you.
Get handsy.
Look honey, no hands! There are a million things your hands could be doing during sex on so many parts of the body, so be sure to talk about the other hot spots on your body. A couples' massager frees up your hands (and his) to explore everything. Just think of all the possibilities…
Add more "oh yes!" to your solo time.
Who says you need a partner to use a couples' massager? Sometimes it's even better to explore a bit on your own, and there are a lot of ways you can use it during "me time". You can use one hand to keep it in place, leaving one hand free to explore.
Or for even more intense sensations you can try it with another internal massager. Using it on your own first can also make you more comfortable using it with a partner, so go ahead!
At least 53% of women and 45% of men report using a massager at some point (and 90% of men who've used one say it was with a partner), so don't feel uncomfortable or shy about adding one to your repertoire. Whether you've already introduced vibrators into your bedroom or this is your first foray into massagers, get something you can enjoy together.
You both be glad you did.
*As always, be sure to clean your massager before and after you use it. Either wash it with soap and water or use a cleanser made for intimate accessories.
Please note that advice offered by Intimina may not be relevant to your individual case. For specific concerns regarding your health, always consult your physician or other licensed medical practitioners.